People
FAI Fellowship: The Meeting of the Mentors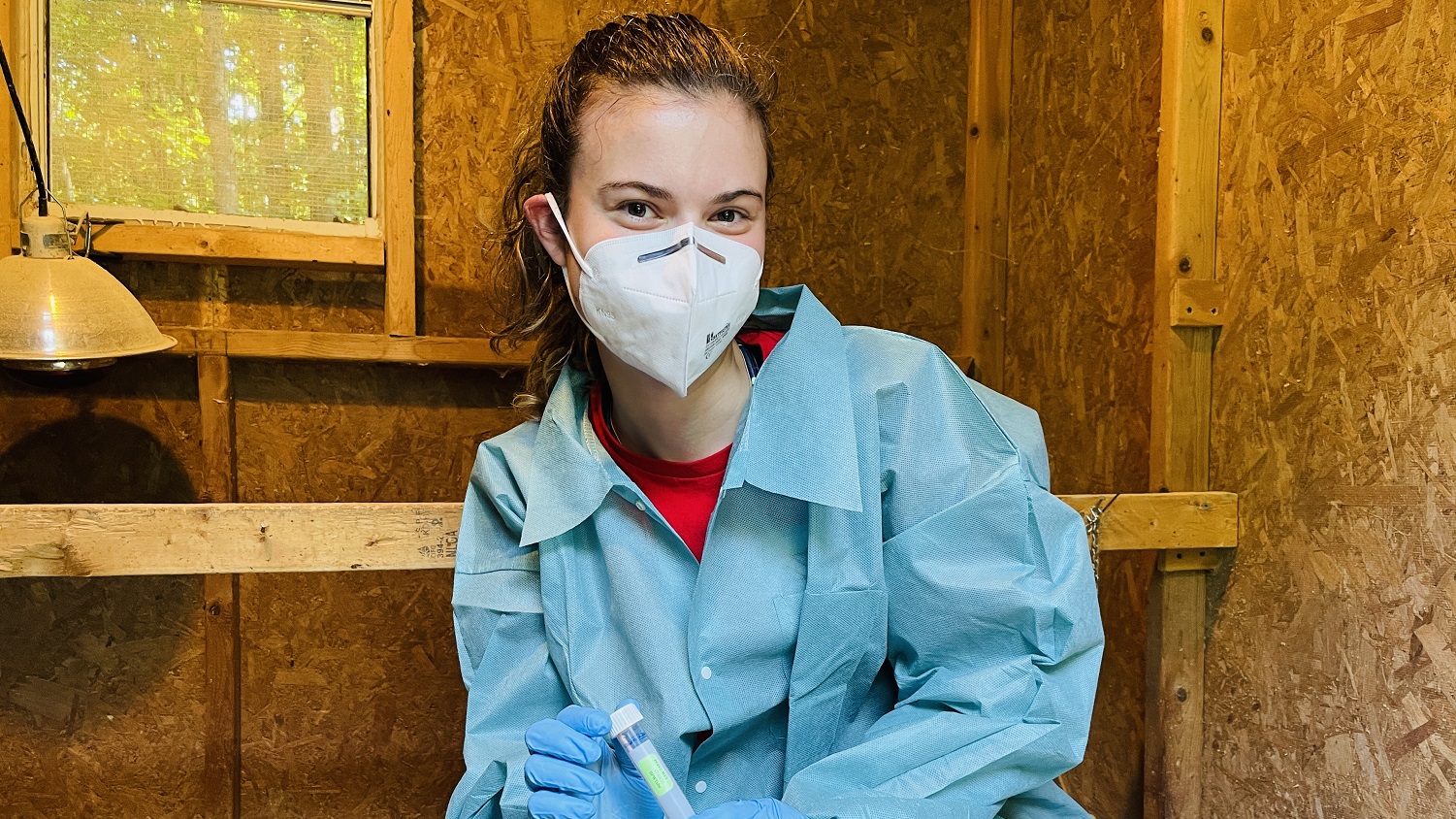 Jessica Parzygnat grew up around animals. For a time, she thought she might follow in her uncle's footsteps and become a vet, but after completing her Introduction to Microbiology class at NC State University alongside an animal nutrition course as part of her Animal Science major, she realized how entwined the two fields are.
In her first year as a fellow with the NC State Food Animal Initiative (FAI), Parzygnat will spend her time around animals and working with bacteria. "I am so thankful that I have this opportunity. It combines my passion for animal science and microbiology," she says.
Investigating Threats to Human and Animal Health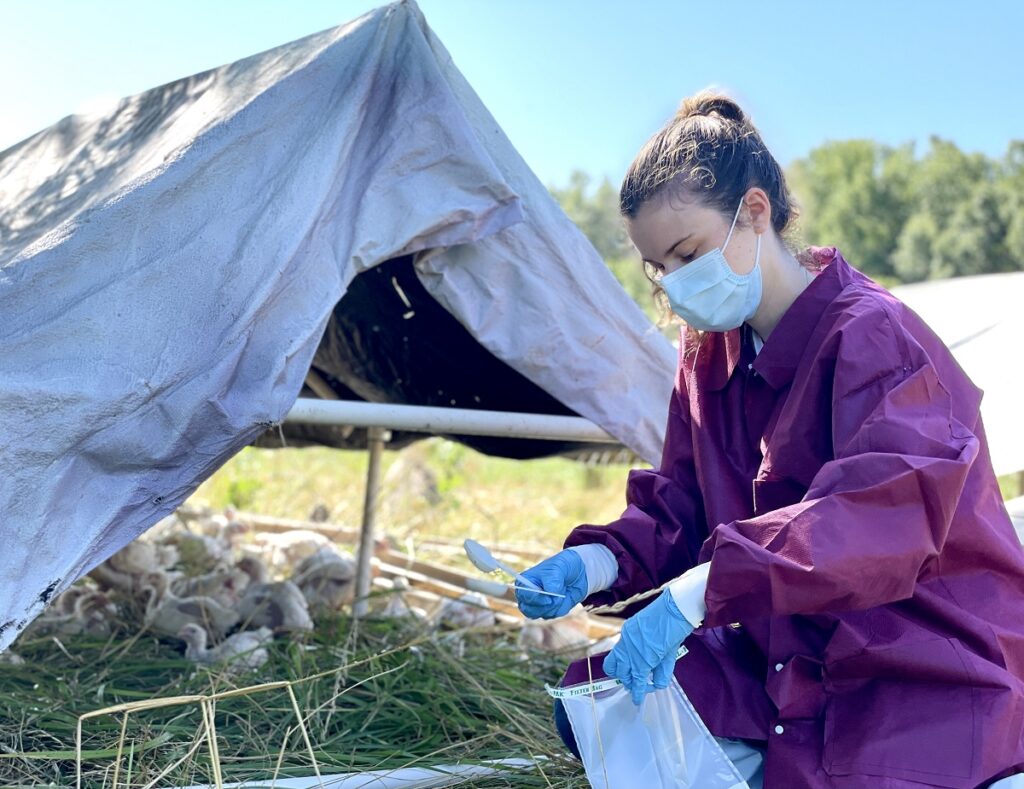 Parzygnat describes her project focus as "investigating the anti-microbial resistance profiles of pathogens found in broilers that can infect humans and potentially make them sick."
In other words, by isolating and studying three pathogens responsible for making people sick—Salmonella, Campylobacter, and E. coli—she hopes to better understand their resistance to antibiotics. She will accomplish this by collecting fecal and environmental samples from local poultry farms to analyze back in the lab.
That is the long-term and large-scale goal. In the short-term, Parzygnat is visiting the farms to view the facilities, review farm management practices, and gather information via a questionnaire. She hopes these walk-throughs will provide valuable, and more immediate, feedback to farmers.
"By assessing where there might be a risk, we can help develop interventions to help farmers to be safe and successful with the production they are doing," she says. "I see how hard these people are working to make chickens happy and how much they want to have the best farm they can, so I hope the research can directly benefit them."
A Matter of Urgency
The Centers for Disease Control and Prevention (CDC) released a report in 2020 linking a Salmonella outbreak to backyard poultry farms, which caught Parzygnat's attention. And there is a 2021 outbreak she has also been following.
"I've read that by 2050, anti-microbial resistant pathogens may potentially cause more deaths than cancer. That's what opened my eyes," she says. "It feels like an urgency for me because there are serious implications about our future."
CALS + CVM = Loads of Feedback
Parzygnat is excited for this unique opportunity "because it's intended to improve food animal production in the state of North Carolina through collaborative research."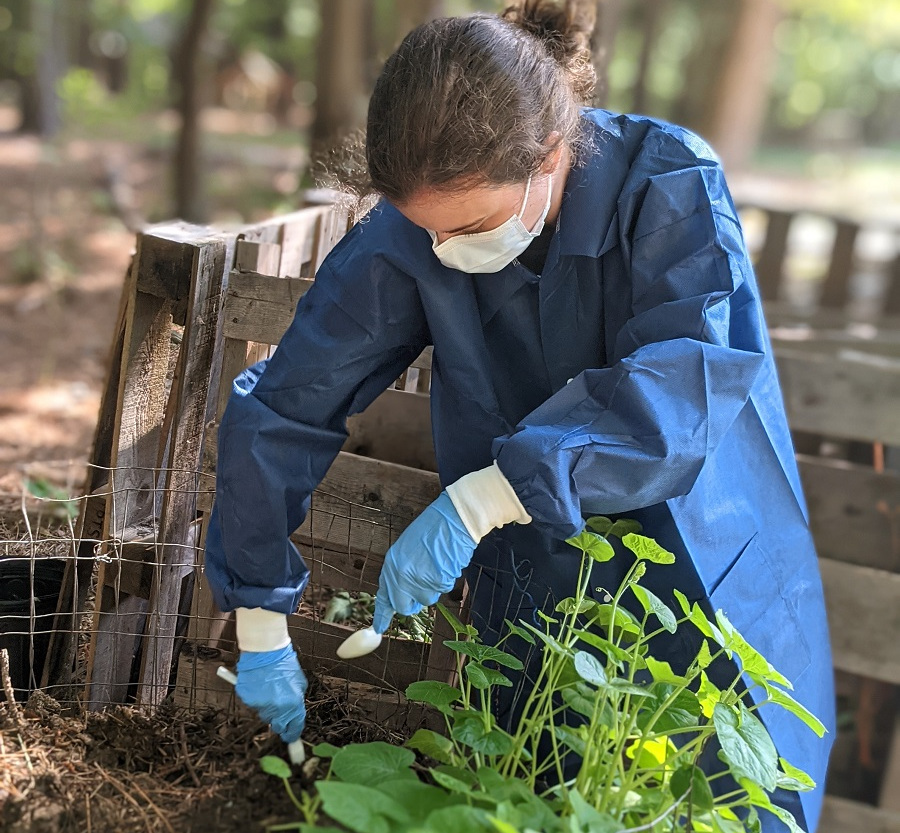 That collaboration includes four advisors from two different colleges at NC State. Dr. Matt Koci, professor of Immunology, Virology and Host-Pathogen Interactions, and Dr. Rob Dunn, professor of Applied Ecology, are faculty members within the College of Agriculture and Life Sciences (CALS). Dr. Sid Thakur, professor, director of Global Health for CVM and NC State, and Dr. Luke Borst, associate professor of Veterinary Anatomic Pathology, work within the College of Veterinary Medicine (CVM). Each mentor brings their own unique background and perspective.
Parzygnat says they each look through the project with a different lens, which she admits can be overwhelming due to so much feedback, but it is extremely beneficial.
Dr. Koci agrees: "Having four mentors allows her to learn multiple ways to address the same problem. If you're working in just one lab, you see the world through that one prism. She gets to see it through all four."
A Win-Win for All
The mentors recognize the impact this fellowship can have on not only Parzygnat's future but future partnerships between the colleges.
"Graduate students are the best glue that binds [primary investigators] together," Dr. Thakur says.
Dr. Koci adds, "She's helping us stitch together research from the four affiliated labs. There's so much synergy between CVM and [CALS]. This [project] will hopefully be the springboard to normalize and incentivize collaboration beyond the fellowship."
FAI has the capacity to do ground-breaking work, and Dr. Thakur credits the two deans who have supported and worked toward the creation of this platform, bringing the two colleges together.
However, long-term productive collaborations require outside grants. The data generated from this fellowship could contribute to a strong track record of effective working relationships and accelerate funding for future students.
Parzygnat's Future
The fellowship is funded for three years, which Parzygnat calls a blessing. She will be conducting her research as she is working toward her PhD in the Comparative Biomedical Sciences program with a concentration in population and global health.
As for after she earns her PhD, she says she's hoping to stay in academia, but she wants to "keep the doors open. I may want to do research, be a professor, and have my own research lab."